Provide global customers with the best e-liquid & nic salt & free base and the best service, all in Vape Hammer.
Which team are you supporting the most in the FIFA 2022 World Cup?
2022-11-15
Who wouldn't want to be a part of the World Cup? Let's cheer together with our friends and Family's! #soccerIshere
The 32 teams will be;
Brazil

Chile

Uruguay

Argentina

Colombia

Nigeria

Ghana

Egypt

Ivory coast

Senegal

Portugal

Spain

France

Croatia

Italy

Holland

England

Switzerland

Wales

Germany

Belgium

Sweden

Poland

Denmark

Costa Rica

USA

Mexico

Australia

Iran

Japan

South Korea

Qatar
I would not like to go with a specific country.Only time will tell. let's start analysing various national teams as of 2021 considering their performance in the latest tournaments.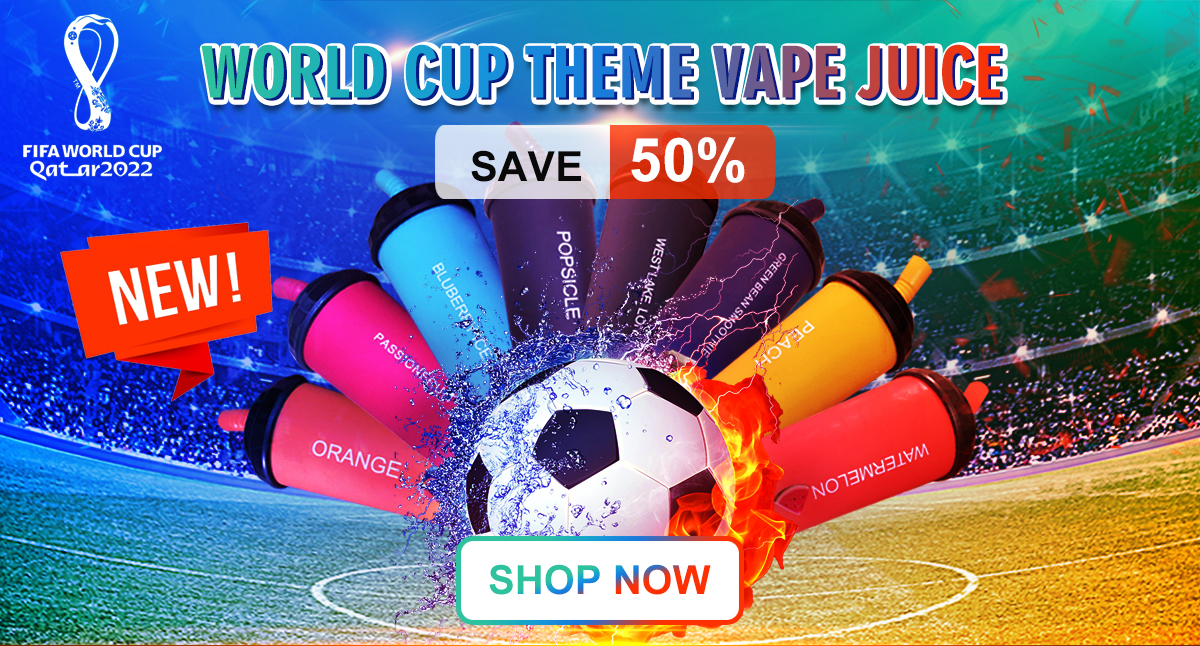 1. Italy
The famous football cartoon making channel 442oons used to call them jokingly "Defendaly". But in their recent performance in 2020 UEFA Euro we have seen that they are no more playing defensively, most of the times they're trying to adapt with the situation. Especially when lagging a goal behind, the way they can unleash attacking threats are simply mind blowing. They have a new hero in their squad, their keeper Gianluigi Donnarumma who seems to be a strong wall to score past and his penalty shootout heroics says all about his potency. With such a squad where they're having talents in the reserve bench to substitute for talents who are in the starting 11, they can do miracle. So as of now without any doubt they can be considered a strong early contender for the next winter's World Cup.
Now as we know we have seen in the past few European teams tend to succumb under extreme pressure from the Latin American teams which you can recall in terms of Italy facing Brazil in the past World Cup or even other European teams. So a question remains on what's gonna happen or rather how they're going to respond on facing a Latin American giant because constant attacking threats from the opponent sometimes tend to destabilise even a big team.
2. Argentina:
The defending Copa America champions look like they have finally gained enough confidence around Lionel Messi after they proved their worth in the Copa Final against Brazil. This time Argentina had done away with their all out attack policy as well as spread the play policy instead played more of possessional football and made sure they're not conceding many goals to hold the lead. This sort of mentality with time can prove to be beneficial when you're having Lionel Messi in your team as he can take care of the gaps using his individual heroics.
However, Messi's Argentina may find themselves a little tough to penetrate through the strong defensive walls of many European teams hence until we get to see them play we can't comment and there might be a question or two about their defence. Let's not just forget that in 1990 Argentina made this happen when Claudio Caniggia headed in a equaliser against a strong Italian defence following a long ball from Diego Maradona.
3. Brazil:
"Did you miss my darling?" Well, how can we possibly? Just like every other edition you can't write off this team who's always there when we talk about this very tournament's contender. The most successful nation with 5 trophies can surely get crowned again at Qatar next year. They do have lot of talents and experience in their sqaud. But they need to use their key players more often. Daniel Alves is like a backbone for Brazil his leadership qualities and personal experience always helps any team he is in. Apart from this the coach needs to utilize the players accordingly and in the most suitable way.
However, their recent Copa America loss might have caused frustration for them, but it's not a big deal as they can bounce back getting rid of that trauma. Let's not forget Brazil got knocked out by Honduras in 2001 Copa quarter final and then what happened the next summer, we all know!!!
4. Spain:
"No Ramos, no party" might have been a good chant all around in Spain but Luis Enrique's young Spain was just a penalty shootout away from reaching the finals. To have faith in Spain in the World Cup you need to believe in their coach. Luis Enrique has shown lot of success in the past for Barcelona and this summer as well he has shown enough of his expertise along with his Spanish troops. With time they'll surely be learning more and apply that when needed.
But!!! Did you feel something missing in that squad? Yeah may be a veteran which can lead them more. But again, Sergio Busquets and Jordi Alba are always there to help.
5. France:
Defending champions are still in a great form only to have got knocked out suffering a penalty shootout loss. But the display they had against Switzerland going a goal behind moment was amazing!!! They've got back Benzema, Mbappe is feeling the josh (hoping that he'll soon get rid of that penalty missing nightmare) and PogBOOM is beyond anything to say.
But!!! At some point did they look tired? May be some irregularities in squad selection? Or ran out of luck? Well can't say clearly. France's Euro campaign got nipped in the bud so we really need to rediscover them next winter.
6. Netherlands:
You might be laughing reading their name after scrolling down for so long. But believe me their squad was lacking certain Virgil Van Dijk who can be a match killer. He's their main strength. A wall who can score out of nowhere was out of the touranement following injury issues and is finally back. Now with time progressing, at EPL we will get to see how much of his previous form he will be getting back. But you can't take him and his side easily. On top of that Louis Van Gaal has returned which might make the Dutch a good deal for the trophy next winter.
However, in Euro 2020 Netherlands didn't show lot of enthralling display in the forward third where they certainly need to improve but with the new coach has come, anything is possible.
Apart from these some notable mentioning will be Belgium, who can come out on top with the talents they have. England seemed running out of luck as penalty shootout curse is hitting them more often, still will have a good chance of at least reaching beyond the round of 16. Portugal can do miracle with Cristiano Ronaldo and you can expect more dark horses to appear next winter. Switzerland can rely on their individual as well as team performance specially Sommer and Xhaka and Shaqiri.
The only name I didn't mention is Germany. Well, they're terribly awful as of their current condition and as it stays you can expect another group stage elimination for them. However, they've got the Sextuple winning Bayern manager Hansi Flick, so you can take time to see them improving.
After all, in the game of football along with potential abilities, luck seems to matter the most. We've witnessed in the past where many giants ran out of luck and ended up losing. But as Thomas Jefferson said, "I find that the harder I work, the more luck I seem to have "so will depend on which team bagging success in terms of luck owing to their hard work.
Get ready for the World Cup in style with the Vape Hammer sweet flavors e liquid.
User Center
Payment & Shipping
Newsletter